Two Magic Days in Vale das Furnas - Azores Lovers
Two Magic Days in Vale das Furnas
Vale das Furnas is a hymn to nature in its purest state where anyone can admire some of the most mystical and breathtaking places on the island of São Miguel. Furnas volcano is one of the 3 main volcanoes on the island and its caldera is the largest and oldest caldera on the island. Upon arriving at this wonderful place, it is impossible to remain indifferent to all its beauty.

Despite the fact that Vale das Furnas transmits tranquility and peace, there are countless activities available for a dream weekend in this parish, the simplest of all is to walk and be enchanted by all the vibrant green that surrounds it, but there is much more to discover in each of its corners.

DISCOVERY
For a good start to the day, there's nothing like a good breakfast and for that we recommend the Bolos Lêvedos Rosa Quental.
If you are currently asking what Cakes Lêvedos are, we can already say that they are great and typical of Furnas/São Miguel. Bolos Lêvedos are a kind of cake and bread at the same time that honestly tastes good with everything – sweet or salty – but be careful because you can run the risk of getting addicted.
After a great breakfast, a little fresh air will definitely taste good, so we advise you to start by exploring the area on a trail, one of the trails we recommend is the Pico do Ferro Trail. But if you wish, you can just stop at some viewpoints, such as the Salto do Cavalo Viewpoint and/or the Viewpoint of Pico do Ferro (1) and enjoy the landscapes that surround you.
Go down to the edge of Lagoa das Furnas where on one side you can see a neo-Gothic church and on the other some fumaroles. Take the trail around the lagoon which lasts only 1:30h and is of reduced difficulty. When approaching the fumaroles, don't be frightened by the smell that emanates from them, although it's not pleasant, it's just sulfur.
On the opposite side, you can see the church in the neo-Gothic style, which is the protagonist of several stories. Now that you've seen the majestic lagoon from above and you've covered the paths that surround it, it's time to climb a little higher. Head to Lagoa Seca and the Lombo dos Milhos Viewpoint, which gives you an incredible view of the parish decorated with flowers and greenery. Breathe in the fresh air of all the nature that surrounds you!
If you are feeling adventurous and love a good walk, in the Lagoa das Furnas and Pico do Ferro Viewpoint, you can also access the Grená Park where you will find a natural treasure with breathtaking landscapes.
Time passes by and it's time for lunch, after so much adventure it's time to be sure that tasty food will not be lacking in this parish. Tony's restaurant is one of the most famous. It is a simple place, but with typical and very tasty food, there you can taste the famous Cozido das Furnas.
IN CONTACT WITH NATURE
After so much exploring and walking, we think you deserve to relax and Furnas is without a doubt the perfect place to do so. End your day in one of the various thermal water pools that this town offers. At Dona Beija's Puddle (2) you can enjoy a very pleasant environment and try all the pools, each one of them guarantees a different experience. We advise you to go later in the evening to enjoy an idyllic and calm environment.
If you love plants and gardens and want to take a walk, but you also want to enjoy a bath in thermal water or Terra Nostra Park (3) has the best of both worlds. This park has a memorable garden that brings together not only the endemic flora of the Azores, but also plants from various parts of the world where climates are totally different.
In addition to the garden with two centuries of history, you will certainly be delighted to see the magnificent thermal water pool in the center of the park and two smaller pools that look like natural jacuzzis. These thermal pools are the ideal way to reconnect with yourself and recharge your energy.
This hot water makes us a little hungry doesn't it? At the Caldeiras & Volcões restaurant you can enjoy a regional menu with various delicacies from our island, don't forget to also taste the Queijadas de Inhame das Furnas.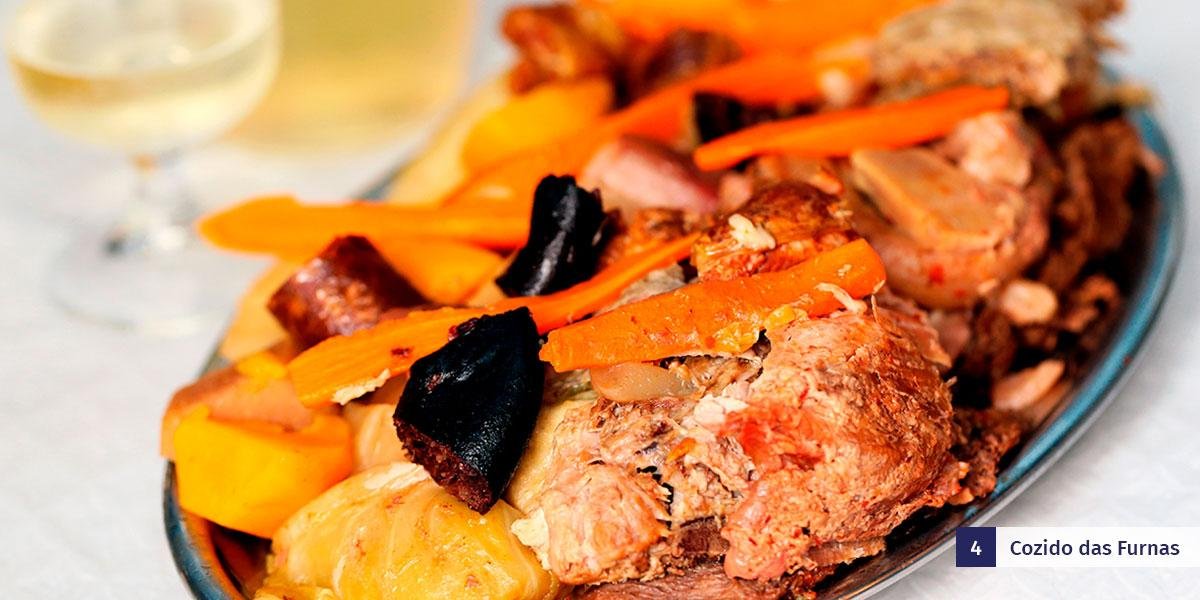 A SPECIAL FOOD
You woke up thinking about Cozido das Furnas, didn't you?
We understand, it has already happened to us all… The experience of making your own Furnas Stew (4) in the volcano's boilers where it's cooked underground – yes, you read that right, underground – it's something different and exciting, but we warn you that it takes some time and patience, but it's totally worth it.
Live the true Azorean spirit and be adventurous by going to the local supermarket to buy a pan and the necessary products to make a delicious Cozido das Furnas. For an Azorean 100% experience see the recipe, as well as the list of required ingredients, in our Recipe for Stew from Caldeiras das Furnas.
go to Furnas Lagoon boilers (5) to cook your meal – entry to this area is €0.50 per person and €0.25 for every 15 minutes in the car park – to cook your Cozido das Furnas underground you will also have to pay a symbolic amount of 3 €.
While waiting for the stew, which takes about 6 hours to cook, there is a morning of activities ahead that will definitely whet your appetite.

A NEW DAY IN THE VOLCANO CRATER
In fact, the famous Vale das Furnas is a crater of an inactive volcano with 7 km in diameter, thinking about it like that makes us shiver, doesn't it?
A new day begins and we already know that you will feel like eating a yeast cake again… We told you that you would like it!
This time you can have breakfast at Bolos Lêvedos Glória Moniz and take the opportunity to buy some more warm fresh from the oven for your snack.
In addition to walks and/or hikes, another of the best ways to contemplate the stunning landscapes and nature of Furnas is through a more fun activity. Book your morning for one of the many activities available around Lagoa das Furnas, such as horse riding, canoeing or even cycling.

If you haven't done the walk around the Furnas Lagoon (6) make the most of your visit to the area and start by walking, even if you don't feel like walking too much, the curious sculptures made of wooden trunks will make you want to get to know them, every few meters you can find a different one. You will also come across some rocking benches, stop, sit down and take the opportunity to admire nature in its purest state.

It's lunchtime and your stew should be almost done. To complete the experience, we advise you to go a little earlier to the side of the fumaroles and see the entire process of removing Cozido das Furnas from inside the holes.

After this beautiful delicacy, how about taking a stroll around the center of the parish and getting to know some of the main places in the parish? Have you ever seen a house upside down?
Oh yeah, there's one in Furnas and it makes some very funny pictures, you just have to give free rein to your creativity. Also visit the small garden with waterfalls and aquariums in one of the main streets in the parish, and then go to the Poça da Silvina foot wash, close your eyes and feel the sound of the water from the stream beside it, relax.

Maybe you're not very hungry yet, but you really have to go to Queijaria Furnense and taste the cheese made with water from the furnas, it's an ideal snack to end an afternoon of discovery.

IS IT ON THE MOON?
During the night, Furnas are undoubtedly different. There is a certain mystique in the streets, especially in the boilers (7). Don't be intimidated by the sulfur smell that emanates from the fumaroles. In this area you will come across a dry setting that will remind you of the moon, but all surrounded by green – in spring decorated with flowers, at Christmas illuminated and with a representation of the nativity scene. This is a very special setting, beautiful at any time of day and at any time of year.
Walk the paths between the boilers, see the name of each one of them, and be dazzled by your surroundings, there is yet another adventure to end the night...
SOURCES OF MAGIC
After seeing the various boilers and fumaroles, go through the fountains that are distributed throughout this area and get the courage to taste all the waters. When you approach the fountains you will see that they may all look the same, but they are not, this is in fact one of the surprises of this parish. Some of the waters have such a strong and unpleasant taste that they are even unforgettable. Others are more pleasant, with a taste similar to sparkling water, but with less gas and natural gas. To complete this taste test of the different waters of Furnas, finish cooling off at a fountain with the best and freshest water from the Glória Patri spring.
We have a curiosity… Have you ever had purple tea? In Furnas there is a sour water fountain, as we popularly call it, which turns purple when heated! If you like tea, we promise you that this is truly special, even if only because of its different color!
As you may have already noticed, Vale das Furnas is a very special place that will leave you speechless with every step you take or every place you visit. Let yourself be surprised by all the beauty that this valley contains and you will be surprised with the result, you will leave this place with your energies fully recharged.
Discover some products from the Azores